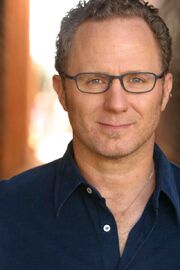 Todd Holland 
was born on December 13, 1961, in Kittanning, Pennsylvania. He is a television and film director and producer.
Personal Life
Todd was born in Kittanning, Pennsylvania, and raised in Meadville, Pennsylvania. He was an honor student, graduating from Meadville Area Sr. High School. While there, he got his feet wet writing/directing/producing several parodies of films popular at the time. Todd's spouse is actor and singer Scotch Ellis Loring, who played Dr. Ron and several muse voices on Todd's Wonderfalls.
Career
Todd Holland has directed three feature films, more than 150 episodes of television and has been honored with three Emmy Awards, five CableAce Awards, eight Emmy nominations, a DGA award and six nominations, and a WGA nomination. As a producer/director, he was a key creative force behind The Larry Sanders Show, Malcolm in the Middle and the critically acclaimed Wonderfalls. His episodic work spans the garmunt of genres from Twin Peaks and My So-Called Life to Shameless, and from Tales from the Crypt to Friends and 30 Rock. Through his Dark Toy Entertainment shingle based at Universal, he is currently executive producing and directing the NBC comedy, Go On, starring Matthew Perry.
A 1985 graduate of UCLA's school of Theater, Film and Television, Todd got his career break when Steven Spielberg saw his UCLA thesis film Chicken Thing and hired Todd to write and direct the second season of Amazing Stories.
Todd's first Emmy came after six seasons on The Larry Sanders Show for HBO. While nominated numberous times for his work on that series, Todd's first Emmy win was for the series finale, the famous FLIP episode. Todd directed 52 episodes of the series. The Everybody Loves Larry episode starring David Duchovny was named one of TV Guide's 100 greatest Episodes of Television.
After The Larry Sanders Show ended after its sixth season, Todd started working in the Fox sitcom Malcolm in the Middle. The show was created by Linwood Boomer and ran for several seasons with Todd directed a total of 26 episodes and serving as co-executive producer for the show. Todd earned two Emmy Awards for the show.
Todd worked as an executive producer for Malcolm in the Middle, and co-created Wonderfalls with Bryan Fuller. He has also directed the feature films The Wizard, Krippendorf's Tripe, and Firehouse Dog.
Todd has directed twice for the NBC sitcom 30 Rock. He directed the episode Generalissimo, an episode which he received his seventh Emmy Award nomination, but lost to Jeffrey Blitz for The Office.
Todd worked with Justin Berfield on Sons of Tucson, a 2010 Fox television sitcom. He directed five of the thirteen episodes and executive produced the series.
Ad blocker interference detected!
Wikia is a free-to-use site that makes money from advertising. We have a modified experience for viewers using ad blockers

Wikia is not accessible if you've made further modifications. Remove the custom ad blocker rule(s) and the page will load as expected.