Paul Mackriell Copley was born on November 25, 1944, in Denby Dale, West Riding of Yorkshire. He is a voice-over artist and actor known for playing Norman Owens in the UK version of Shameless.
Early Life
Paul was born in Denby Dale, West Riding of Yorkshire, and gre wup beside a dairy farm there. His father, Harold, was involved with local amateur dramatic productions, as were the rest of his family. He went to Penistone Grammar School, then the Northern Counties College of Education in Newcastle upon Tyne, where he received an Association of Drama Board in Drama. He taught English and Drama in Walthamstow, before he joined the Lees Playhouse Theatre-in-education company in 1971.
Career
Paul played a small role as Private Wicks in the 1977 film A Bridge Too Far. In 1979 he played another small but noticeable role in Zulu Dawn as Cpl Storey in the British Army. He appeared in the controversial ATV drama Death of a Princess in 1980, playing a British witness to the killing of an Arabian princess and her lover. He has played Matthews in Hornblower, Ian in Roughnecks and Jerry in This Life and Peter Quinlan in The Lakes. He has appeared in Queer as Folk as Nathan Maloney's father, Big Finish's July 2002 Doctor Who story Spare Parks and in Shameless as a water sports enthusiast. In 1980 he appeared in critically acclaimed drama Minder playing George Palmer in episode The Old School Tie. He narrates the Channel 4 programme, How Clean Is Your House?. He featured in the ITV children's hit show Best Friends five episodes in 2005/06, playing the grandfather.
He is a noted perennial Radio 4 radio play actor, usually in gritty or romantic plays about hard-working folk set in the north of England. They are often repeated on BBC7. Whenever a genial Yorkshire accent has been cast in the BBC radio drama department, he has often been summoned. He narrated the 1985 Yorkshire Television 9 part serial adaption of The Pilgrim's Progress entitled Dangerous Journey.
On February 13, 2006, Paul appeared as an angry hostage-taker in an episode of the crime drama Life on Mars. Paul appeared in the TV soap Coronation Street on August 8, 2007, portraying a character called Ivor Priestley, and in the TV adaption The Worst Witch by Jill Murphy, as wizard and former-frog, Algerno Rowan-Webb.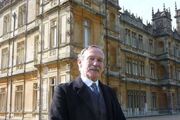 In 1976, he won the Laurence Olivier Award for Best Actor in a New Play for his role as John Wilson's 
For King and Country.
In 2009 he appeared in the third season of BBC One's Torchwood.
In 2010 he appeared in an episode of BBC One's Casualty and Survivors.
In 2011 he appeared as William Mason's father in several episodes of Downton Abbey, and in 2012 he played Alan in White Heart.
He is currently narrating for the Channel 5 programme The Railway - First Great Western of which there are 12 episodes.
Personal Life
Paul married actress Natasha Pyne in 1972, after performing with her in a Leeds Playhouse production of Frank Wedekind's Lulu, adapted by Peter Barnes, directed by Bill Hays in 1971.
External links
Ad blocker interference detected!
Wikia is a free-to-use site that makes money from advertising. We have a modified experience for viewers using ad blockers

Wikia is not accessible if you've made further modifications. Remove the custom ad blocker rule(s) and the page will load as expected.