Maxine Peake was born July 14, 1974, in Bolton. She is an actress known for playing Veronica Fisher in the UK version of Shameless, Twinkle in Victoria Wood's sitcom Dinnerladies, barrister Martha Costello QC in BBC legal drama Silk, and most recently Grace Middleton in The Village.
Early Life
Born in Bolton, Maxine is the second of two daughters born to Brian and Clynis Peake. Her father was a lorry driver before working in the electrical industry, her mother a part-time careworker; Lisa, her elder sister by nine years, is a police officer. Her parents separated when Maxine was nine and she lived with her mother until the age of 15. When her mother moved in with a new boyfriend several miles away, she went to live with her grandfather so she could continue her GCSE studies at Westhoughton High School, before going to take her A-Levels at Canon Slade School, Bradshaw. Her grandfather encouraged her to develop her creativity and start acting.
Maxine joined the Octagon Youth Theatre, Bolton, at 13, before a period at the youth theatre of the Royal Exchange, Manchester. She later attended the University of Salford leaving after two years. Maxine was briefly a member of the Communist Party.
In her teens Maxine was a representative for Wigan Ladies rugby league team.
Maxine's early attempts to enter the acting profession were unsuccessful. She was rejected by every theatre education company in North West England, and tried unsuccessfully for three years to get into Manchester Polytechnic Theatre School and the Guildhall School of Music and Drama. However, at 21, she obtained a place at the Royal Academy of Dramatic Art. Her attemts to find a sponsorship for RADA were the subject of a 1996 documentary by the South Bank Show eventually, after being put forward by RADA, she was awarded the Patricia Rothermere Scholarship.
Career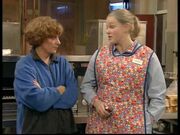 Maxine has appeared in a number of television and stage productions including Channel 4's 
Shameless
, Victoria Wood's 
Dinnerladies
and Craig Cash's 
Early Doors
as Janice. Between the two seasons of 
Dinnerladies
, following career advice from Victoria Wood, Maxine lost so much weight that an explanation had to be written into the script for her character, Twinkle.
In 2006, Maxine portrayed the Moors murderer Myra Hindley in See No Evil: The Moors Murderer. See No Evil was broadcast in May 2006 and met with mixed reactions; soon after this Maxine announced that she was quitting Shameless.
Also in 2006, Maxine appeared in On the Third Day the resultant play in Channel 4's The Play's the Thing televised competition.
In 2007, she played Tracey Temple in the TV drama Confessions of a Diary Secretary, which told the story of John Prescott's affair with his secretary. On January 17, 2008, she was the Cinderella character in the BBC's Fairy Tales series. On March 26, 2008, she starred in Hancock and Joan, a drama in BBC Four's Curse of Comedy series. She played Joan Le Mesurier, wife of actor John Le Mesurier, who had an affair with comedian Tony Hancock shortly after she and Le Mesurier were married. Also in 2008, she played Miss Wade in the BBC adaption of Little Dorrit and Elizabeth Liburne in The Devil's Whore.
January 2009 saw Maxine appear in her first major feature film role as Angela in the film Clubbed, as well as in the Channel 4 trilogy Red Riding. In 2010 Maxine played the titular character in The Secret Diaries of Miss Anne Lister and in 2011 took the lead role of barrister Martha Costello in the BBC's legal drama, Silk.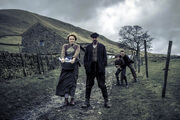 She played the title role in a 2012 prdocution of 
Miss Julie
at the Royal Exachnge, Manchester. She previously played the part of Kristin ina 2000 production. Also in 2012, she played Doll Tearsheet in the BBC2 adaptions of 
Henry IV, Parts I and II
.
In November 2012, a play that Maxine had written and directed about the life of the Leeds born cyclist Beryl Burton and starring herself in the main role was broadcast on BBC Radio Four.
Maxine provided the vocals for the Eccentronic Resarch Council's 2012 concept album 1612 Underture about the Pendle Witch Trials.
She starred alongside John Simm in the 2013 BBC drama The Village depicting life in a Derbyshire village during World War I.
In January 2014, Maxine won the first Bolton Socialist Club Outstanding Contribution to Socialism Award for using her work to oppose the government's "crippling austerity measures."
External links
Ad blocker interference detected!
Wikia is a free-to-use site that makes money from advertising. We have a modified experience for viewers using ad blockers

Wikia is not accessible if you've made further modifications. Remove the custom ad blocker rule(s) and the page will load as expected.