Lucien Leon Laviscount was born on June 9, 1992, in Burnley. He is a British actor and recording artist best known for his portrayal of Jonah Kirby on popular BBC One drama Waterloo Road and as Dee Davies in the UK version of Shameless. In 2012 he made the transition to recording artist with the release of his debut single Dance with You. He is set to play the lead in the upcoming series Supernatural: Bloodlines, a spin-off to the hit CW show Supernatural.
Early and Personal Life
Lucien grew up in Ribble Valley in Lancashire. He attended Ribblesdale High School in Clitheroe, where he was awarded 10 GCSEs, and was also a member of Carol Godby's theatre workshop in Bury. His parents, Eugene and Sonia, have two other sons, Louis and Jules. In 2010, he took part in a charity soccer match alongside Jack McMullen, Lyndon Ogbourne and other actors in aid of Sport Relief.
Acting Career
At the age of 10, Lucien appeared in an advertising campaign for Marks & Spencer. Lucien secured roles in programmes such as Clocking Off and Johnny and the Bomb before becoming a series regular in BBC One series Grange Hill. He was then cast as religious swimmer Ben Richardson in Coronation Street.
He appeared as Jonah Kirby, a student, in hit TV show Waterloo Road.
He also appeared in Trollied season 2 which was shown on Sky 1.
It was announced on February 22, 2014, that Lucien would be playing the lead role of Ennis Ross in Supernatural: Bloodlines, a spin-off to the US CW show Supernatural.
Reality TV
Celebrity Big Brother 2011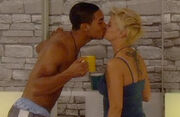 On August 18, 2011, Lucien became a housemate in Channel 5's 
Celebrity Big Brother 2011
. He lasted until the final week, finishing fifth. On the show, he flirted with fellow housemates Amy Childs and Kerry Katona. He found himself torn between the attensions of Katona and Childs which culminated in Bedgate where he ended up sharing a bed with the latter after a drunken party. He has been dubbed Mumbles by his fellow housemates and has entertained viewers with his fondness for showing off his physique in the house gym.
Music Career
Lucien signed for SK Records in January 2012. His debut single Dance sith You, featuring US HipHop artist MANN, was scheduled for an April 2012 release. It was a commercial failure after failing to chart.
MOBO Awards 2011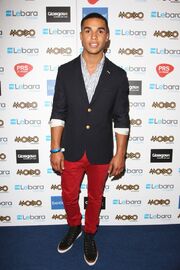 Lucien was at the MOBO Awards held on October 5, 2011 at SECC Glasgow. He presented an award with Jade Thompson to Adele who won Best International Act category at the 2011 MOBO Awards.
External links
Ad blocker interference detected!
Wikia is a free-to-use site that makes money from advertising. We have a modified experience for viewers using ad blockers

Wikia is not accessible if you've made further modifications. Remove the custom ad blocker rule(s) and the page will load as expected.