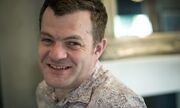 Jonathan Harvey 
was born in Liverpool in 1968, and was educated at Hull University before moving to London, where he worked for four years as a special-needs teacher at a comprehensive school in Thamesmead, the area where his film 
Beautiful Thing
is set. He started writing at the age of 16, with his play 
The Cherry Blossom Tree
. He continued writing whilst studying and teaching, and it was for his play 
Wildfire
that he was awarded an attachment to the National Theatre's Studio at the end of 1992, prompting him to give up his teaching post and write full-time. He now lives in London with his boyfriend.
He is known for his works for Shameless.
Ad blocker interference detected!
Wikia is a free-to-use site that makes money from advertising. We have a modified experience for viewers using ad blockers

Wikia is not accessible if you've made further modifications. Remove the custom ad blocker rule(s) and the page will load as expected.