Joanna Higson is an actress. She graduated from Salford University with a First Class Honors degree in Media and Performance.
Career
Television
Joanna's first television role came on January 22, 2007, when she was handpicked by Jim Cartwright for a role in an episode of The Afternoon Play on BBC One entitled, Johnny Shakespeare. She then appeared in the pilot episode of Scallywagga when the series was titled Spacehopper. She played Amy Osbourne in Cold Blood in June and also in Cold Blood 5: The Last Hurrah on January 3, 2008.
On December 13, 2007, she appeared in an episode of the BBC television series, The Street.
From April to June 2008, Joanna returned to the comedy sketch show series Scallywagga on BBC Three. She played a number of lead characters including the role of Greggs Girl.
Shameless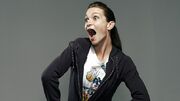 Joanna appeared as the new regular character of
Maxine Donelly
in the sixth and sevenths season of the dramedy 
Shameless
on Channel 4 from January 2009 to 2010. She left the show after two seasons. Her character, Maxine, has not been mentioned or heard during season eight.
Joanna then appeared in Jimmy McGovern BBC1 drama Accused broadcast in November 2010. Joanna played the young daughter of Christopher Eccleston's character, Willy, whose single chance encounter with a money launderer leads to a slippery criminal downfall for him and his family.
Holby City
In January 2012, she played the character Rachel Reid in season 14 of the lon-running BBC medical drama Holby City for an episode. Rachel is found more than worse for wear after the New Year celebrations, and her actions as a troubled and fragile alcoholic in the ward lead to a rift between staff Eddie McKee and Luc Hemmingway. Rachel also must fight a drink temptation as her mother is admitted into Holby, also for alcohol poisoning and it's clear that she is her mother's daughter and can't resist the drink as nor can her mother.
In April, it was confirmed that the BBC will be bringng back the character of Rachel due to her popularity after appearing. Her character reappeared on August 28, 2012, in the episode 
Taxi for Spence
in which she was in hospital for a liver transplant after trying hard to stop binge drinking. After it's clear Rachel may have had a drink to calm her nerves, the hospital staff must decide whether the liver will be best used for Rachel or someone else willing to value life. In the end, Holby surgical consultant Serena Campbell sees the passion for life Rachel has and learns that her mother died soon after her last visit to Holby. The transplant goes ahead.
Joanna Lumley's Little Cracker Baby Be Blonde
In 2012 Joanna played the role of Sarah Milson, directed by Joanna Lumley in her Little Cracker.
Doctors
Joanna also has appeared in two episodes of Doctors, as a character called Lindsey Holt. 
Theatre
In 2008 Joanna appeared in two plays, Road and Spring and Port Wine, at the Octagon Theatre in Bolton.
In 2009 Joanna played Jo in A Taste of Honey at The Ne Vic Theatre in Stoke, where she returned in 2011 for the rep season, playing Lydia Languish in The Rivals, Hilda in Spring and Port Wine, Agetha in The Admirable Crichton.
In 2013 she played the roles of Clara Copperfield and Agnes Wickfield in David Copperfield at The Oldham Coliseum Theatre.
In 2014 she began touring with the Bolton Octagon production of Hobsons Choice directed by David Thacker.
Ad blocker interference detected!
Wikia is a free-to-use site that makes money from advertising. We have a modified experience for viewers using ad blockers

Wikia is not accessible if you've made further modifications. Remove the custom ad blocker rule(s) and the page will load as expected.