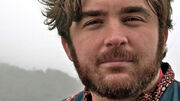 James Adam Ponsoldt
is a director of
Shameless (US)
, actor and screen wirter, now based in Los Angeles.
Life and Career
He was born in Athens, Georgia. He is the son of James F., and Susan E. Ponsoldt, and grandson of graphic artist William Teason. His father is a retired law professor, formerly at the University of Georgia, and he has one sister, Katherine.
He grew up in Athens, and attended Cedar Shoals High School. He received his bachelor's degree from Yale University and graduated from Columbia University with a MFA in directing. He married Megan Holloway in September 2010.
He has written and directed two short films, Coming Down the Mountain and Junebug and Hurricane, and co-directed a documentary short called We Saw Such Things, about the mermaids of Weeki Wachee Springs, Florida. To date, he has made three indie feature films.
Feature Films
Off the Black
His first feature film, Off the Black, premiered at the Sundance Film Festival in 2006.
Smashed
His second feature film Smashed, starring Mary Elizabeth Winstead and Aaron Paul, premiered at the 2012 Sundance Film Festival on January 22, 2012, and won the US Dramatic Special Jury Prize for Excellence in Indie Film Producing. The film received an Independent Spirit Award nomination for Mary Elizabeth Winstead's performance.
The Spectacular Now
The Spectacular Now, his third feature film, premiered at the 2013 Sundance Film Festival in January, 2013, where it received the Special Jury Award for Acting.
The film was warmly received at the 2013 Sundance Film Festival. In The Hollywood Reporter, critic Todd McCarthy called the movie "a sincere refreshingly unaffected look at teenagers and their attitudes about the future...Ordinary in some ways and extraordinary in other, The Spectacular Now benefits from an exceptional feel for its main character son the parts of the director and lead actors." Cinema Blend called it "the rare Sundance coming-of-age story that feels like it matters," adding, "The Spectacular Now is an instant MVP of the first half of the festival, with potential breakout hit written all over it, you'll be hearing a lot about this one down the road, and it's got the goods to live up to the hype." Spin called the film, "The next great teen movie."
New York based idstribution company A24 linked a deal for The Spectacular Now, which Pnsoldt shot in Athens, Georgia in the summer of 2012. The film was released on August 2, 2013.
Ad blocker interference detected!
Wikia is a free-to-use site that makes money from advertising. We have a modified experience for viewers using ad blockers

Wikia is not accessible if you've made further modifications. Remove the custom ad blocker rule(s) and the page will load as expected.