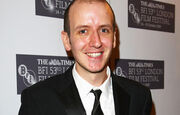 Jack Thorne 
was born on December 6, 1978, in Bristol. He is a BAFTA Award-winning screenwriter and playwright. He has written for radio, theatre and film, most notably on the TV shows 
Skins, Cast-offs, This Is England '86, This Is England '88, The Fades
and the feature film 
The Scouting Book for Boys
. He currently lives in Luton.
Theatre
Jack's play for stage include When You Cure Me, Fanny and Faggot, Stacy, Burying Your Brother in the Pavement, 2 May 1997, and Bunny which won a Fringe First at the 2010 Edinburgh Festival. He also collaborated on Greenland with Moira Buffini, Penelope Skinner, and Matt Charman at the National Theatre. His plays are published by Nick Hern Books.
In 2011 he participated in the Bush Theatre's project Sixty Six Books, for which he wrote a piece based upon a book of the King James Bible. In 2012 his version of Friedrich Duerrenmatt's The Physicists was staged at the Donmar Warehouse. His adaption of the book kand film Let the Right One In was staged by the Natiional Theatre of Scotland at Dundee Rep Theatre and the Royal Court in 2013.
Television
Jack has written for the TV shows Skins and Shameless. He co-created Cast-offs, and has co-written This Is England '86 and This Is England '88 with Shane Meadows. In August 2010 BBC Three announced Jack would be writing a 60-minute, six episode supernatural drama for the channel called Touch, later re-titled The Fades. In 2012 he won BAFTA Awards for both best drama series and serial.
Radio
Jack has written four plays for radio; an adaption of When You Cure Me, Left at the Angel, an adaption of The Hunchback of Notre Dame and People Snogging in Public Places. The latter won him the Sony Radio Academy Awards Gold for Best Drama 2010. The judges described it "as a wonderfully written and performed, highly original piece of radio drama in which the production perfectly mirrored the subject. Painful and funny, it was a bold exciting listen."
Film
Jack's first film The Scouting Book for Boys was released in 2009, it won him Best Newcomer at the London Film Festival. The jury said, "Jack Thorne is a poetic writer with an end-of-the-world imagination and a real gift for story-telling."
Ad blocker interference detected!
Wikia is a free-to-use site that makes money from advertising. We have a modified experience for viewers using ad blockers

Wikia is not accessible if you've made further modifications. Remove the custom ad blocker rule(s) and the page will load as expected.