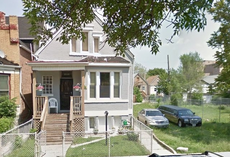 An actual dwelling located in Chicago at 2119 S. Homan Ave, Chicago IL, Tourists are discouraged to flock around the location according to neighbors.
In the show, the address is 4404 South Wallace, Chicago IL.
When not filming
There are apparently no normal occupants, some pictures on social media show there are but it isn't confirmed. When scenes are not being filmed there, the production company does its best to keep the buiding attractive to appease the neighbors, as seen in the photo many flaws such as the rusted fencing are cleaned up.
In the photo you can see a streach limosine parked on the grass on the right side. It's unsure if this is related to the program or there for some other reason.
Ad blocker interference detected!
Wikia is a free-to-use site that makes money from advertising. We have a modified experience for viewers using ad blockers

Wikia is not accessible if you've made further modifications. Remove the custom ad blocker rule(s) and the page will load as expected.