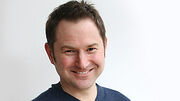 Danny Brocklehurst
was born in June 1971, in Hyde, Manchester. He is a BAFTA and International Emmy winning screenwriter. Danny worked as a journalist for several years before becoming a full-time screenwriter.
He has written television drama series including Clocking Off, Shameless, and The Street; International Emmy winner Accused, dramedy Linda Green; serials Exile, The Stretford Wives, and Sorted. He has been nominated for both BAFTA and Royal Television Society writing awards.
Television Work
Danny wrote several episodes of the BAFTA award winning series Clocking Off, as well as the acclaimed two part BBC film The Stretford Wives, which was shot by director Peter Webber.
With Shameless, Danny won a BAFTA for series one, co-worte series two with Paul Abbott and became lead writer on series three. He left prior the fourth season.
His self-created series, Sorted, the BBC's high profile postal drama, starring Hugo Speer, achieved five million viewers in the summer of 2006 and was the only drama that year to grow week on week in ratings. Despite this; and the largely good critical response; the then controller Jane Tranter did not recommission the show.
In 2007, Danny wrote a film about the Fathers4Justice campaign for producers Harbour Pictures. Whilst, his Company Pictures produced four-part ITV drama, Talk to Me, starring Max Beesley, Laura Fraser, Adrian Bower, Kate Ashfield, and Emma Person.
He has written episodes of both Jimmy McGovern's The Street and his new crime drama Accused for BBC One. Liam's Story, starring Andy Serkis. Accused won an International Emmy in 2011 for best drama series and season two received four BAFTA nominations.
In 2011 he wrote a three-part BBC One drama, Exile, "a tale of prodigal redemption" which becomes an investigative crime story. It starred John Simm and Jim Broadbent. It was critically acclaimed. It received an average of 5.5 million viewers and an Audience Appreciation score of 90%.
In 2011 it was announced that Danny would write a new HBO drama, Dirty, with Andrea Arnold attached to direct.
In August 2013, Charlotte Moore, the BBC One controller announced a new drama, Ordinary Lies, written by Brocklehurst.
The Driver, starring David Morrissey was announced in January 2014, a three-part drama about a taxi driver who takes a job driving for a criminal, the show is for BBC One and co-star Ian Hart, Claudie Blakely, and Colm Meany. It is co-created by Jim Poyser and made by Red Productions and Highfield Pictures.
HBO announced a project called A Teacher, in Februarry 2014 which will be co-written by Danny and Hannah Fidell, and executive produced by Mark Duplass. It is a drama about a teacher/student relationship, based on the film of the same name.
Theatre
In theatre he has written three award winning plays, My Eight Times Table, Nobody, and Loaded, as well being story adviser and book co-writer of the hit West End musical Never Forget.
His new play Casual Ties has been commissioned for production in 2014. It is a dissection of modern relationships.
Film
In film, he has adapted the Whitbread nominee Buddha Da; written a book adaption for Working Title Films and is currently working on a screen adaption of Shaun Ryder's autobiography Twisting My Melon.
Miscellaneous
He was featured in the writers' section of the Broadcast Magazine Hot 100 2007.
He has cited Tony Marchant, Jimmy McGovern and Alan Bleasdale as his writing inspiration. In a Creative Times feature in 2010, he wrote that Our Friends in the North was his favorite drama of all time.
In 2011 he has been nominated for two Writers Guild Awards for Exile and Accused.
In 2013 Danny wrote the track Ring with dance band Mint Royale, featuring the vocals of Willem Dafoe.
Ad blocker interference detected!
Wikia is a free-to-use site that makes money from advertising. We have a modified experience for viewers using ad blockers

Wikia is not accessible if you've made further modifications. Remove the custom ad blocker rule(s) and the page will load as expected.