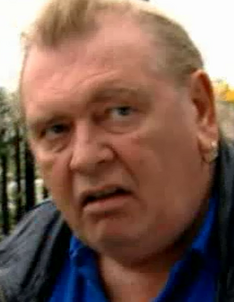 Billy is a frequently recurring background character who is usually seen at The Jockey. He first appeared in Episode 2 of Series 1, when Frank entered and tried to persuade him to buy him a drink. To which Billy pointedly ignored Frank.
Billy is a somewhat overweight man in his fifties who sports long, greying hair bound in a ponytail, and is often seen wearing a black leather jacket. As a constant background figure on the Chatsworth scene, Billy is seldom given any dialogue.
Billy is one of about a dozen recurring background figures in Shameless, most of which are unnamed, except for Bunty, an old woman who Frank has previously described as 'giving incest a bad name' (Episode 407) and Denzig (named once by Kevin Ball in Episode 306), a bald, middle-aged Jockey regular of Afro-Caribbean descent.
Ad blocker interference detected!
Wikia is a free-to-use site that makes money from advertising. We have a modified experience for viewers using ad blockers

Wikia is not accessible if you've made further modifications. Remove the custom ad blocker rule(s) and the page will load as expected.